Centuries before the invention of camera and cinema Leonardo da Vinci captured in a wall-painting a unique moment of drama and excitement. Christ has just announced the betrayal by one of the apostles, an announcement which throws into panic those present, a turning point which is going to lead to extreme consequences for Christ.

Watch one of our tour guides describing the Last Supper.…
The setting
The painting covers one wall of an oblong hall which used to be the refectory of the monks in the monastery of Santa Maria delle Grazie. One must imagine what it was like for the monks to have their tables side by side with the table of Christ and his apostles.
The Composition
Leonardo's picture is very different from the traditional representation of this biblical story, where the apostles were always depicted as sitting quietly at the table in a row. Christ has just spoken the tragic words and the apostles shrink back in terror as they hear the revelation. In a dramatic contrast Christ sits calm and resigned amidst the turmoil. However, there is nothing chaotic in the picture. The twelve apostles fall quite naturally in groups of three on his left and right, linked to each other by gestures and movements. It is a harmonious interplay of movements, an astonishing achievement in a painting which is by its nature static. The scene is lit by a cold clear light that brings forth in analytic detail every object. The plates, the food, the transparency of the glasses and the folds and decorations in the tablecloth form an extraordinary still life frieze.
From science to artistic depiction
Looking at the apostles' gestures, it is interesting to note that the closer the figures are to the centre of the scene the more marked their reactions are. This is the result of Leonardo's understanding of the laws of acoustics he was studying at this time. To use his words: "those who are closer better understand, the furthest do not hear at all.
Santa Maria delle Grazie Church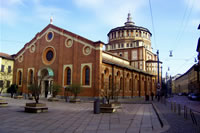 S.Maria delle Grazie
Located next to the refectory housing the Last Supper, the church of Santa Maria delle Grazie is one of the highest points of the Renaissance in the city, an elegant and harmonious composition. Entering the church the visitor finds himself in the central aisle, a dim and narrow space which opens up onto the bright spacious apsidal area. This was designed by the architect Donato Bramante and commissioned by Ludovico il Moro, duke of Milan. The dome, built on a broad square base, a circle within a square, is an extraordinary piece of architecture whose modernity still today does not fail to impress the visitor.
Did you know that?
Traces of gold and silver leaf were discovered in the painting of the Last Supper. This confirms Leonardo's desire to depict the scene realistically, emphasizing the light in key areas.