Last Supper Experience on Repubblica
23/01/2015
Repubblica, one of the most important italian journal, writes about Leonardoamilano.com!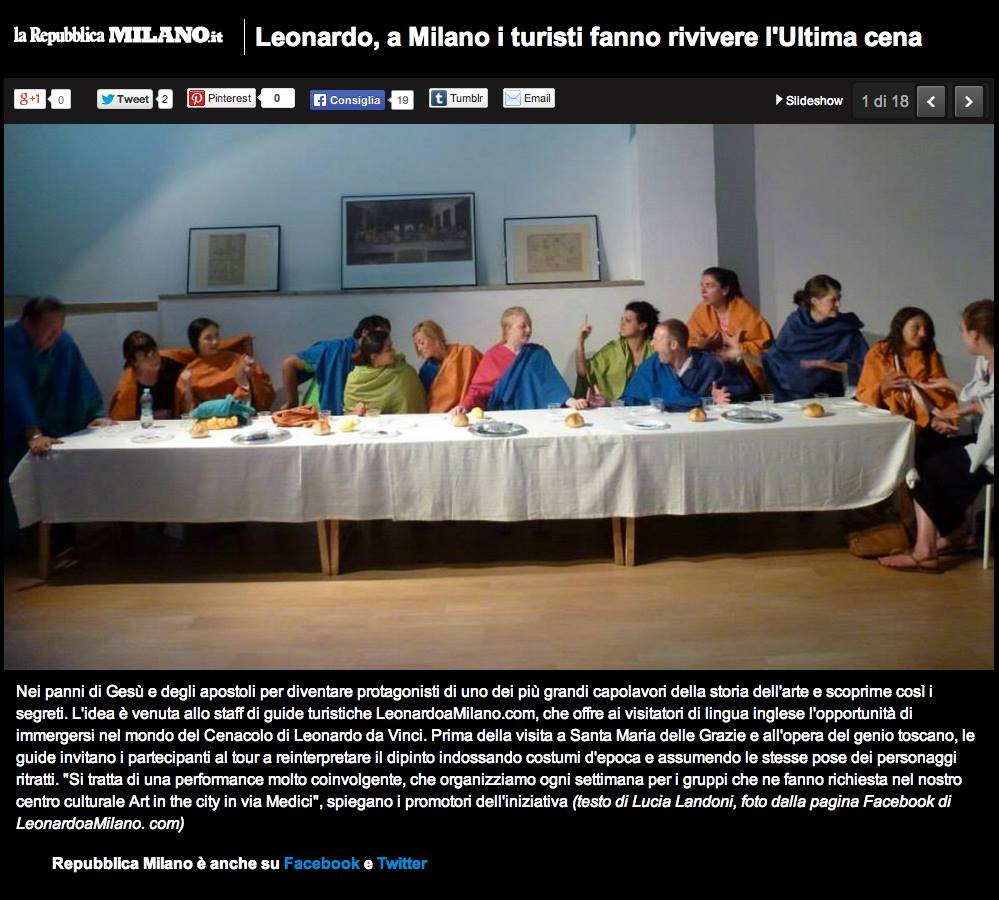 Happy to this success, we invite you to try our Last Supper Experience.
Relive characters of Last Supper by Leonardo da Vinci and discover all secrets of this masterpiece in Milan.
Book now on this link
Renaissance food & wine tasting
12/11/2014
Have you ever wondered how it was like to live in the Renaissance, maybe at the court of Duke Ludovico il Moro?
Here´s your chance to find out!
Every Friday, starting from 5th Dec onward, you have the opportunity to taste five different dishes, cooked according to original recipes by Martino da Como, chef at the Sforza Castle in the XV century.
Our Renaissance aperitif will take you back in time to the court of Ludovico il Moro and his wife Beatrice d'Este: an immersive experience involving all your senses!
Bloggers love us!
16/10/2014
Our guided tours for privates and small groups are finally available online!
02/10/2014
Now you get the chance to visit some of the most beautiful places in Milan, such as Castle Sforzesco or Pinacoteca Ambrosiana, with a guide ready to answer all your questions.
Other interesting places to discover in Milan are coming online soon.
Book your visit now!
Our Parco Sempione video on youtube!
26/09/2014
Here is our new video on Parco Sempione, one of the biggest and most famous parks in Milan.
Discover all the secrets of this beautiful place, all the hidden treasures and the Triennale Design museum of Milan, .
Check it out!
Here we are on Pinterest!
26/09/2014
We finally joined Pinterest!
Learn about Leonardo da Vinci´s life, discover beautiful hided place in Milan, watch our videos and find out every guded tours.
Follow us on Pinterest and join our family!