This art gallery offers you the opportunity to admire great works of art in a peaceful atmosphere. Despite its treasures, the Pinacoteca is, in fact, overlooked by mass tourism. Immersed in the silence of its rooms, you will be surrounded by extraordinary paintings including Caravaggio's "Basket of Fruit", "The Adoration of the Magi" by Titian, "Madonna with child and three Angels" by Botticelli, the monumental preparatory cartoon for "The School of Athens" by Raphael and Leonardo da Vinci's "Portrait of a Musician".
The Portrait of a Musician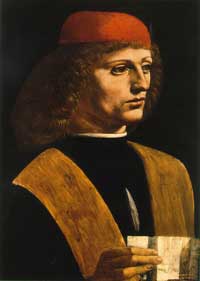 Portrait of a Musician
What is so fascinating about Leonardo's painting is the craftsmanship in the depiction of the subject's face. The prominent bone structure is visible beneath his strong face, no doubt the result of Leonardo's studies of anatomy. More than a simple portrait, this is also a study of the motions of the mind. The musician is concentrating on a musical score, his lips are barely parted as though he were preparing to sing. Leonardo focuses his attention on an infinitesimal instant in life, a moment of extreme concentration, where the surrounding environment disappears in an abstract darkness.
History of the art gallery and the annexed library
The art gallery was established in 1618 by Cardinal Federigo Borromeo, one of the most influential art patrons, who donated his private collection. This was, however, just one element of a more complex project. In fact, the Cardinal had already opened a few years before a library, named 'Ambrosiana' after Saint Ambrose, the patron of Milan. It was one of the world's first libraries to open to the public and it is still today a highly regarded centre for research. It hosts, in fact, a priceless collection of codices and volumes including Leonardo da Vinci's renowned "Codex Atlanticus" containing 1750 drawings on technical and scientific subjects. Federigo Borromeo than added also the Accademia del Disegno, an art academy (it closed down in 1776). In this respect the Pinacoteca was meant to provide models for the students to study. However, in the Cardinal's intentions it was also a place where the public could admire painting and sculpture, following the belief that the arts could have a positive impact on people's life.
Did you know that?
The Pinacoteca Ambrosiana houses also some quirky exhibits, such as a lock of Lucrezia Borgia's blond hair. She was Pope Alexander VI's illegitimate daughter, known to be a very attractive and seductive woman. The lock was probably a pledge of love Lucrezia gave to her lover, however, nobody knows how it ended up in the Pinacoteca.